Introduction
Although meniscus surgery is a frequent recommendation for individuals who experience knee pain, sometimes pain does not disappear after the procedure. Moreover, pain is the most common complication after meniscus surgery.
Why does this happen? What alternatives can modern medicine offer? Let's learn more about the knee's anatomy and the role of the meniscus to help us understand when meniscus injuries require surgery, how the procedure is performed, and the potential complications. We will then discuss knee pain maintenance following meniscus surgery.
Anatomy of the Knee
The knee is known as the most sophisticated joint of the body. It connects the leg and the thigh, allowing bending and extension, as well as a slight rotation of the lower leg in the flexed position. It is formed of three bones – the femur on top (thigh bone) and the tibia and fibula in the lower leg. The front of the knee joint is screened by patella, commonly referred to as the kneecap. Two menisci – lateral and medial – are located in between the lower surface of the femur and upper surface of the tibia. The menisci are C-shaped structures of connective tissue with massive collagen fibers. They absorb pressure and shock while bones are moving during walking, running and sitting down, thus protecting the bone's surface from abrasion and deterioration. Other functions of the menisci are:
• distribution of body weight;
• joint stability;
• joint lubrication;
• providing nutrition to the knee joint.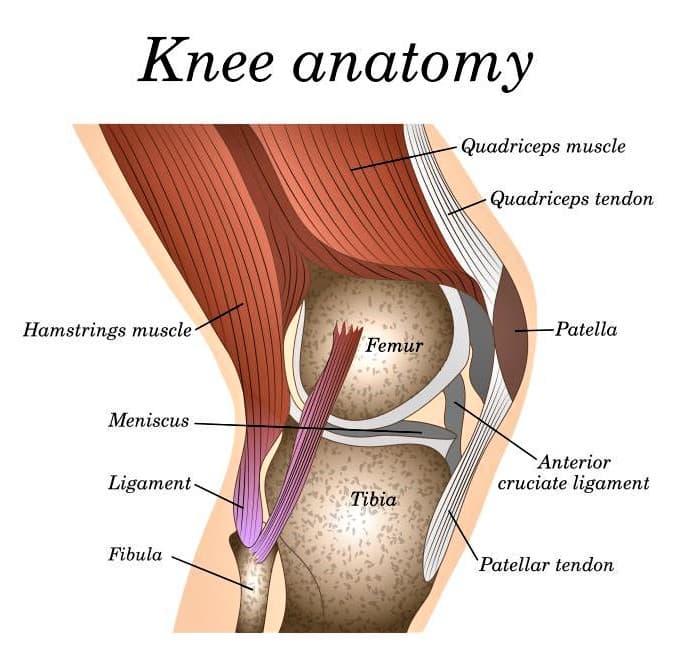 There are also plenty of various tendons that provide knee movement and continuity.
The clear demonstration of the knee structures and explanation of their function can be found in this video:
Damages to the knee joint may be caused by traumas and injuries, as well as diseases, and usually result in pain. One of the most common conditions is damage to the meniscus due to abnormal wear. Such damages are confirmed by an MRI when a patient complains of knee pain.
Meniscus Surgery
When the knee experiences excessive twists or strains during sports, the tissue of the meniscus may become damaged. The fibers break or tear and the person feels knee pain. Depending on the degree of the damage, surgery may be needed.
Reasons for Meniscus Surgery
Minor/mild tears of the meniscus do not require any medical interventions or therapy as spontaneous healing will occur.
More intense tears may be cured with ice, bandages, compression, and anti-inflammatory drugs. Doctors may recommend an exercise plan to strengthen the muscles of the lower limb and increase knee mobilization. During the rehabilitation period, limiting physical loads is obligatory. This is a conservative treatment for meniscus injuries.
Only cases of large acute tears will require meniscus surgery (if intensive conservative treatment doesn't work). Before performing surgery, the age of the patient and the location and pattern of the tear should be considered.
Procedure
In recent years, practitioners prefer to use arthroscopy for most meniscus surgery instead of open incision. This technique allows the surgeon to view and manipulate the inside of the joint through a small hole by means of a device called an arthroscope. It is equipped with a camera that allows for live viewing of the inside of the knee on a monitor. Surgery is usually recommended to patients younger than 50 years old and to physically active-patients in good health.
Types of Meniscus Surgery
At present, the following types of meniscus surgery are performed:
1. Meniscectomy – The torn piece of meniscus is cut and removed. This may be a partial or total removal of the meniscus tissue.
2. Meniscal repair – This procedure is used to help restore the rupture if it is located in the outer zone of the meniscus. This location has a good vascular supply which helps to promote healing. In the vast majority of cases, meniscal surgery means the removal of the damaged parts, i.e. meniscectomy, rather than repair.
3. Meniscal reconstruction – The rarest of meniscus surgical treatments. In this case, the native meniscus is expanded with a tissue graft which improves the function of the knee joint and helps to eliminate pain.
This video includes an animation of the common surgical procedures for meniscus repair and partial meniscectomy:
Follow-Up Period After Surgery
The rehabilitation period to full physical activity may last from 6 weeks up to 12 months. Physical therapy and special exercises are designed to increase muscle strength and to stabilize the knee joint. If the rehabilitation protocol is neglected, gait abnormalities may cause further injury and constant pain in the knee. However, there is a lack of scientific evidence about the efficacy of the various rehabilitation protocols.
Complications of Meniscus Surgery – 5 Reasons Why Knee Pain Returns
1. Poor Mechanics and Increased Shock
As mentioned above, in most cases surgeons perform meniscectomy rather than repair. With decreased meniscal tissue, more stress is applied to the bones and cartilage because the truncated meniscus cannot absorb shock and protect the cartilage effectively. The rest of the meniscus also suffers from higher pressure, causing pain to return (or to have never ceased in the first place). Even if most of the patients are satisfied with the results of the surgery, long-term observation (8 years post-surgery) showed a high incidence of degenerative changes which resulted in pain.

2. Osteoarthritis
The most serious and common complication of meniscectomies is osteoarthritis. Depending on the state of surrounding ligaments, up to 100% of patients developed osteoarthritis after isolated meniscectomy at 30 years after surgery. Obese and overweight patients, as well as those with degenerative tear (most commonly in elderly patients), are more predisposed to faster/earlier onset of osteoarthritis development.
3. Osteonecrosis
Another factor that can play a role in knee pain is osteonecrosis which may occur within 1-3 years after meniscectomy. This refers to the condition when bone tissue dies possibly due to biomechanical changes in the knee after meniscectomy.
4. Infections
Knee infection (septic arthritis) after simple knee arthroscopy is rather rare but is a severely adverse event when it occurs. It usually requires hospitalization, additional surgery, and prolonged medication with antibiotics. Common signs of infection are:
• fevers and shivers;
• warmth and flushing of the knee;
• swelling of the knee.
Early management of infections after surgery is important. Infection itself may harm cartilage and cause osteoarthritis.
5. Other Sources of Knee Pain
Not all meniscus tears are associated with pain. Most people after their 50s will have signs of meniscus tears that appear on an MRI scan but have no pain. For this reason, pain may be from sources other than meniscus tears.
Stem Cells Application in Pain Management after Knee Surgery
It was shown that using stem cell products, such as multipotent mesenchymal stromal cells (MMSCs) or stromal vascular fraction (SVF) can manage pain and improve the function of damaged joints. These cell products are obtained directly from the patient using a simple painless procedure or from a donor. After processing, they are injected into the patient's knee. They produce soluble growth factors and other biologically active molecules that are able to stimulate the growth of capillary networks and the generation of new cells to replace damaged ones, and relieve inflammation. This helps reduce pain and restore mobility in the affected knee.
The advantages of stem cell treatments are:
• High recovery rate.
• No additional drug therapy required (besides anesthesia during cell collecting procedure).
• No side effects.
• Absence of any allergic and immune reactions.
• Quick and simple procedures that are well tolerated at any age.
Contact us
Learn more about stem cell treatment for knee pain booking a free online consultation with our Medical Advisor >>>
Conclusion
Despite general recommendations to preserve the meniscus and a clearly outlined range of meniscus injuries that are the subject for knee surgery, the widespread practice is to apply surgery even when it would not bring any benefits to the patient.
Interestingly, there is hard evidence that meniscus surgery isn't more effective than physical therapy alone or even the placebo effect (tested through patient-blind mock surgeries on volunteers where a surgeon performs the whole operation on the placebo group except the treatment actions).
Because of this, physical therapy, as well as manual techniques, should not be neglected. The advances in cell biology over the past decades are breaking new ground for innovative approaches in meniscal tear therapy and should also be considered.
Contact us
Contact our Medical Advisor to get a free consultation on the treatment of post-meniscectomy knee pain at Swiss Medica >>>
List of References
Makris EA, Hadidi P, Athanasiou KA.The knee meniscus: structure-function, pathophysiology, current repair techniques, and prospects for regeneration. Biomaterials. 2011 Oct; 32(30): 7411–7431.

Beaufils P et al. The knee meniscus: management of traumatic tears and degenerative lesions. EFORT Open Rev. 2017 May; 2(5): 195–203.

Frizziero A et al. The meniscus tear: state of the art of rehabilitation protocols related to surgical procedures. Muscles Ligaments Tendons J. 2012 Oct-Dec; 2(4): 295–301.

Heckmann TP, Barber-Westin SD, Noyes FR. Meniscal repair and transplantation: indications, techniques, rehabilitation, and clinical outcome. J Orthop Sports Phys Ther. 2006 Oct; 36(10):795-814.

Laible C, Stein DA, Kiridly DN. Meniscal repair. J Am Acad Orthop Surg. 2013;21(4):204–213.Biggs A, Jenkins WL, Urch SE, Shelbourne KD. Rehabilitation for Patients Following ACL Reconstruction: A Knee Symmetry Model. N Am J Sports Phys Ther. 2009;4(1):2-12.

Logerstedt DS et al. Knee pain and mobility impairments: meniscal and articular cartilage lesions. J Orthop Sports Phys Ther. 2010 Jun; 40(6):A1-A35.

Hoser C et al. Long-term results of arthroscopic partial lateral meniscectomy in knees without associated damage. J Bone Joint Surg Br. 2001 May; 83(4):513-6.

Thorlund JB et al. Changes in knee joint load indices from before to 12 months after arthroscopic partial meniscectomy: a prospective cohort study. Osteoarthritis Cartilage. 2016 Jul;24(7):1153-9.

Atmaca H et al. Changes in the loading of tibial articular cartilage following medial meniscectomy: a finite element analysis study. Knee Surg Sports Traumatol Arthrosc. 2013 Dec;21(12):2667-73.

Badlani JT, Borrero C, Golla S, Harner CD, Irrgang JJ (2013) The effects of meniscus injury on the development of knee osteoarthritis: data from the osteoarthritis initiative. Am J Sports Med 41:1238–1244.

Lange AK et al. Degenerative meniscus tears and mobility impairment in women with knee osteoarthritis. Osteoarthritis and Cartilage, 2007 June; 15 (6): 701-708.

Longo UG et al. Knee Osteoarthritis after Arthroscopic Partial Meniscectomy: Prevalence and Progression of Radiographic Changes after 5 to 12 Years Compared with Contralateral Knee. J Knee Surg. 2019 May;32(5):407-413.

Neyret P, Donell ST, Dejour H. Results of partial meniscectomy related to the state of the anterior cruciate ligament. Review at 20 to 35 years. J Bone Joint Surg Br. 1993 Jan; 75(1):36-40.

King LK, March L and Anandacoomarasamy A. Obesity & osteoarthritis. Indian J Med Res. 2013 Aug; 138(2): 185–193.

Fukui K et al. Subchondral fracture caused by unevenly stiffened meniscus after radiofrequency-assisted arthroscopic knee meniscectomy: A case report and review of the literature. Int J Surg Case Rep. 2019 Oct 28;65:135-140.

DeFalco RA, Ricci AR and Balduini FC. Osteonecrosis of the knee after arthroscopic meniscectomy and chondroplasty: a case report and literature review. Am. J. Sports Med., 31 (2003), pp. 1013-1016.

Yao L., Stanczak J., Boutin R.D. Presumptive subarticular stress reactions of the knee: MRI detection and association with meniscal tear patterns. Skeletal Radiol. 2004;33(05):260–264.

Balato G et al. Knee Septic Arthritis after Arthroscopy: Incidence, Risk Factors, Functional Outcome, and Infection Eradication Rate. Joints. 2017 Jun; 5(2): 107–113.

Englund M et al. Incidental meniscal findings on knee MRI in middle-aged and elderly persons. N Engl J Med. 2008 Sep 11; 359(11):1108-15.

Zhao L, Kaye AD, Abd-Elsayed A. Stem Cells for the Treatment of Knee Osteoarthritis: A Comprehensive Review. Pain Physician, 21 (3), 229-242 May 2018.

De Miguel MP, Immunosuppressive Properties of Mesenchymal Stem Cells: Advances and Applications. Curr Mol Med, 12 (5), 574-91 Jun 2012.

Montgomery SR et al. Cross-sectional analysis of trends in meniscectomy and meniscus repair. Orthopedics. 2013 Aug;36(8):e1007-13.

Katz JN et al. Surgery versus Physical Therapy for a Meniscal Tear and Osteoarthritis. N Engl J Med 2013; 368:1675-1684.
More sources
Medical Advisor, Swiss Medica doctor