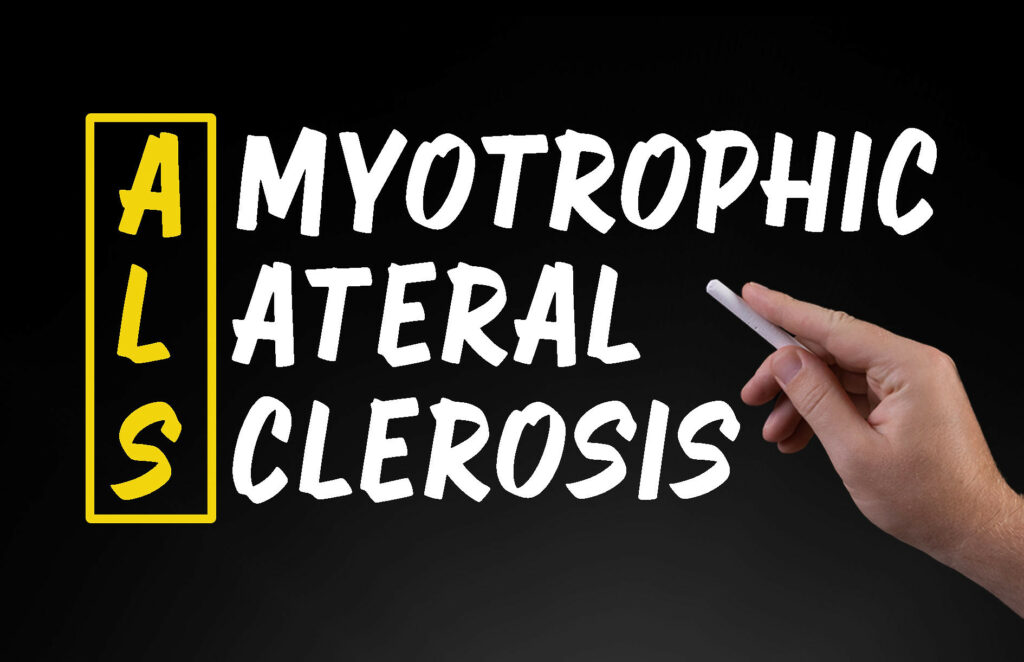 Amyotrophic lateral sclerosis, or ALS, is a progressive neurodegenerative disease that affects the spinal cord's neurons and central nervous system. It slowly kills motor neurons, which results in the loss of voluntary muscle movement such as walking and eating. ALS patients have to rely on wheelchairs and caretakers to fulfil their daily needs.
Worldwide, every 1 in 50,000 people falls victim to ALS. Around 5,760 to 6,400 new cases are diagnosed and recorded per year. Moreover, every fifth in 100,000 deaths is due to ALS.
ALS is a progressive disease, which means that symptoms get worse over time, and it's not curable. The survival time for the disorder is about several years, but in rare cases, people can live up to ten years or longer. Some treatments can only slow its progression. Stem cell therapy is a new treatment for ALS patients that reduces symptoms and improves neuromuscular conduction, increases the overall quality of his life, and even expands it. From this article, you will learn about ALS stem cell therapy's effectiveness and safety in treating patients with the disease.
Get a free online consultation
Contact us to learn about the expected results of the treatment based on stem cells, as well as its cost and duration.
What Is Amyotrophic Lateral Sclerosis (ALS)
Amyotrophic lateral sclerosis is a rare severe progressive disease of the nervous system. Despite more than a century of its study, ALS development causes remain unclear. This disease is characterized by the degeneration of motor neurons, which takes place in the spinal cord and brain, resulting in discontinuing muscles use and muscle motor paralysis in the later stages of the condition. As a result, patients are unable to walk, talk, chew, and even breathe proficiently.
The mechanisms underlying neurodegeneration in ALS are multifactorial and operate through interrelated molecular and genetic pathways. Specifically, this neurodegeneration might result from a complex interaction of glutamate excitotoxicity, generation of free radicals, cytoplasmic protein aggregates, SOD1 enzymes, combined with mitochondrial dysfunction, and disruption of axonal transport processes through the accumulation of neurofilament intracellular aggregates.
Mutations in TARDBP and FUS result in the formation of intracellular aggregates, which are harmful to neurons. Activation of microglia results in the secretion of proinflammatory cytokines, resulting in further toxicity. Ultimately, motor neuron degeneration occurs through the activation of calcium-dependent enzymatic pathways.
Signs and Symptoms
The origin of the disorder lies in the development of muscle weakness that causes ALS with muscular frame atrophy. The initial signs of the disorder are very subtle and hard to notice, even by the patient. However, they gradually increase and worsen with time. The common signs or symptoms are:
Muscle twitching;
Muscle cramps;
Muscle weakness affecting a part of the body;
Slurred or difficulty in speech;
Difficulty chewing or swallowing;
Breathing problems;
Rapid weight loss and loss of appetite.
The prognosis is extremely poor and until recently, the treatments were symptomatic and could only delay the fatal ending. Most ALS patients pass away within three to five years from the sign's first appearance. After ALS disease stem cell research, cell-based therapy gives hope to managing the symptoms of the disorder, improving the quality of life, and increasing life expectancy in the disorder.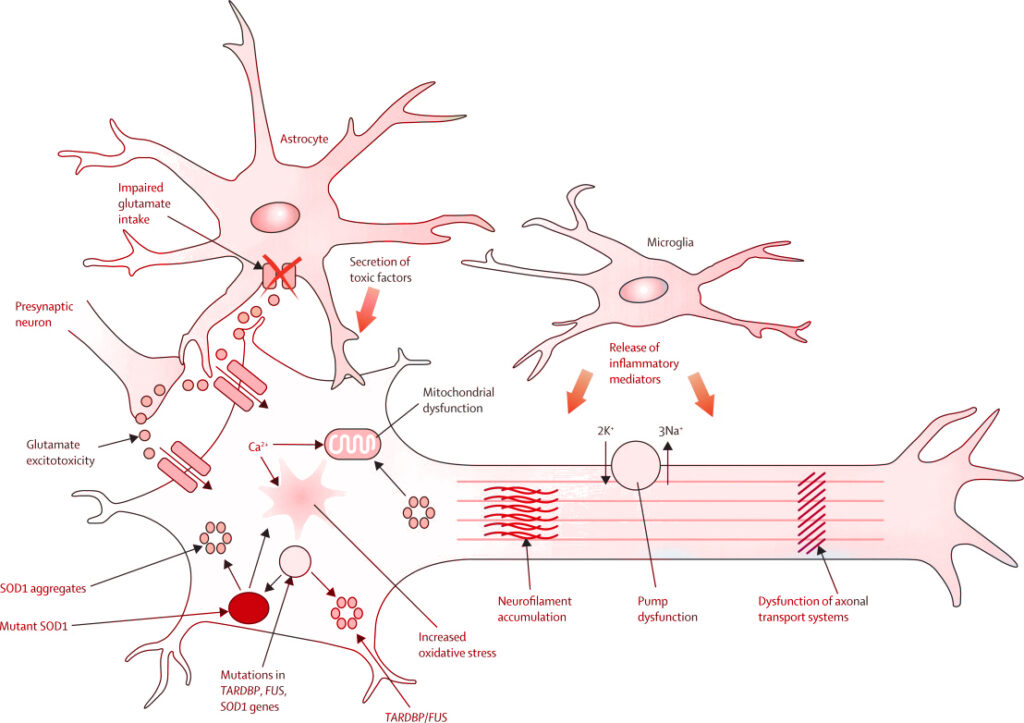 What Is Stem Cell Therapy
Stem cells are raw body materials that turn into daughter cells which create more stem cells with a specific function, such as neurons, blood, bone and muscle cells, heart muscle cells, etc.
Stem cell therapy is a regenerative medicinal treatment aimed to repair damaged cells within the body, alongside reducing inflammation and improving immune system response.
Stem cell therapy is used to treat several autoimmune, inflammatory, and neurological disorders, such as Crohn's disease, arthritis, Parkinson's disease, multiple sclerosis, and ALS, among others. ALS treatment with stem cells may require frequent cell transplants to observe the positive effects of the therapy. It provides enough healthy cells for the body to heal itself temporarily. This treatment strategy helps decrease the disease's progress though does not cure it.
How Stem Cells Can Help ALS Patients
ALS stem cell therapy is emerging as a new treatment plan to decrease the spread of neurodegeneration in the body, regenerate the already affected neurons, and defend those that are still healthy. In multiple ALS and stem cell therapy research, different types of stem cells have shown the potential to slow down the progress of the disorder. In particular, adult mesenchymal stem cells (MSCs) are under trial to observe how they react with ALS patients' cells.
A study was designed to find out the toleration of stem cell transplant for ALS patients. The experimenters isolated MSCs from the patient's bone marrow. The extracted cells were suspended in 2 ml of cerebrospinal fluid (also collected from patients) to make the cells mimic the functions of brain cells. The enhanced cells were later transplanted back into the spinal cord. No adverse reactions were observed, though some patients suffered mild side effects, such as pain in the ribs, chest, and abdomen and abnormal feelings of burning and prickling in the legs. As a result of the therapy, MSCs enhance neuromuscular connection and create a partial recovery of motor functions.
The ALS stem cell trial was first conducted in South Korea in 2015. Further ALS stem cell research shows promising results of using MSCs transplant in ALS stem cells treatment. It was found that these cells can create a supportive microenvironment which generates a neuroprotective milieu on top of neurons, slowing down the degeneration process. The neurotrophic substances protect motor neurons against damage, contribute to their formation and improve neuromuscular interaction.
ALS stem cell therapy opens entirely new possibilities in disease treatment, resulting in the significant improvement of the patient's motor activity. The limb movement increases, muscle tension decreases, reflexes normalize, and better tolerability of daily stress is achieved, as well as swallowing and word pronunciation. In addition, overall health including mental and emotional statuses is at a much higher level.
Patient's Results of ALS Treatment with Stem Cells
Here are some patients sharing their results after stem cell treatment at the Clinic:
Cosimo M., the patient from Italy
Cosimo's ALS treatment started in November 2021. He was unable to walk and operate his arms. He also experienced trouble in positioning his feet and maintaining posture. Cosimo first experienced the symptoms in his legs as he developed a limp. He associated this with muscle fatigue from extra sports activities. He has recently received stem cell therapy, which improved his symptoms for 2 to 3 months. The treatment plan has not healed him completely, but his leg muscles are expected to gain strength and support his weight without any assistance.
Marine P., the patient from the USA
Marine was prescribed medicine to manage the symptoms, but she wanted something that would improve her health for the long term. She read about ALS and stem cell therapy and started her treatment at the Swiss Medica Clinic. She underwent five different types of stem cell trials for ALS, including MSCs treatment. After treatment, her facial muscle improved significantly. Now, she is able to talk and swallow more comfortably.
ALS Stem Cells Treatment Program at Swiss Medica Clinic. The Procedure
Stem cell therapy for ALS gives hope and reality-based outcomes. Swiss Medica Clinic offers adult mesenchymal stem cell therapy to manage different symptoms of the disease. In this therapeutic procedure, the stem cells are collected from blood, bone marrow or other source and then cultivated and stored in a controlled environment. After the cells are prepared for the therapy, they are infused into the patient through a standard IV drip which is completed within only a couple of hours.
These millions of administered stem cells slowly spread inside the body and get to the site of injury to repair the degenerated neurons. If the patient continues the treatment for the long term, most atrophied muscles will regain their strength with the help of physical and occupational therapy. Usually, patients start observing improvement in their symptoms (and even reversing them as well) within 2 to 3 months after receiving the first dosage.
Despite their healing properties, stem cells do not provide a cure, but only improve the symptoms of ALS, delay the progression of the disease, and prolong life. The effectiveness of the therapy depends on multiple factors: initial condition, duration of the illness, age of the patient, hereditary predisposition, lifestyle, etc. Also, applying only stem cells for some cases may be not enough. Cell therapy works more effectively when combined with other therapeutic methods that help activate the tissue repair process.
The Advantages of Our Treatment System
The advantage of taking stem cell treatment at Swiss Medica Clinic include:
Low risk of side effects and rejection-free stem cell transplant for ALS (both extracted from the patient's own body or donated).
Pain-free administration without general anesthesia.
A quick and easy procedure that does not last more than a few hours.
No oncological complications, as the treatments are based on adult stem cells instead of embryonic or fetal stem cells.
A treatment option is available both with the patient's own cells and with donor cells.
Additional therapies and services are available to enhance the effect of cell-based treatment and carry it out in the most comfortable conditions for the patient and his or her relatives.
Medical support 24/7, and doctors consultations after the discharge.
Cost of Stem Cell Therapy For ALS
Worldwide, stem cell clinics offer cell-based therapy for ALS for approximately $15,000 to $50,000. The final cost depends on the patient's health state, the number of procedures, the type and quantity of cells, complementary therapies and other options of the treatment plan, as well as additional services during your stay in the medical center. To learn more about the cost for your personal case, please contact our medical advisor with the disease history details.
How to Enter the Treatment Program
If you have reached the point of 'where can I get stem cell treatment for ALS', you may find it useful to know that we have taken care to develop a special treatment program for this disease. You can get acquainted with the treatment program at an online consultation with the Clinic's specialists and, after weighing up the pros and cons, undergo treatment if your case allows.
To enter into the stem cell treatment program at Swiss Medica Clinic, please follow these steps:
Contact Swiss Medica Clinic for an initial consultation. The doctor will evaluate your case based on your reports and previous medical studies.
Health administration will estimate your health status to check whether you may benefit from stem cell therapy or not.
The doctor will offer and discuss with you an individually tailored treatment plan.
You will be provided with an interpreter, visa assistance, driver, etc.
Get a free online consultation
Contact us to learn how you may benefit from stem cell therapy for ALS, what is the cost and the duration of the treatment, and what it may include.
Swiss Medica ХХI Century has been working for 20 years, and our successful clinical experience made everyone in our team an expert in the treatment of many health conditions and restoration of the body. As well, our specialists prevent and manage a number of serious age-related and chronic diseases. Working with modern technologies, we are constantly improving our knowledge, and developing skills and approaches in the field of regenerative medicine.
Medical Advisor, Swiss Medica doctor