In the modern world, the issues concerning the safety of cell therapy have been incredibly relevant. But before giving a definite answer whether cell therapy is safe, one has to clearly understand what said safety implies.
When it comes to cell therapy, cancer alertness is one of the most common concerns among patients and doctors alike. In order to have a deeper insight into that matter, it is necessary to dismiss all the speculative observations of individual journalists, medical officers, and patients, and instead focus on authoritative scientific evidence. But before we start analyzing the scientific facts, let's define the term "cell therapy". At the moment there is a wide variety of cellular products in their pure form as well as tissue-engineered structures and surgical techniques, based on the utilizing of the ability of individual body cells to promote the regeneration process.
The most frequently used type of cells in cell therapy are the multipotent mesenchymal stromal cells (MMSCs). These cells are present in every organ and tissue of our body and act as regeneration regulators. The patient's own tissues such as bone marrow, adipose tissue or oral mucosa are predominantly used to get MSCs and in that case, the obtained cell-based products are called autologous.
Additionally, MMSCs are immune-privileged cells, meaning they do not carry histocompatibility complex class I molecules on their surface, which makes them unrecognizable to the immune system. Thus, in cases when it is impossible to obtain the patient's own biomaterial (contraindications to sampling, an insufficient amount of cells in the patient's biomaterial or lack of time to prepare the cellular product in event of acute conditions), donor tissue-derived cellular products can be used. Such cellular products are called allogeneic.
MMSCs are a type of adult cells capable of differentiation in various directions, including adipo-, osteo-, chondro-, neuro-, myogenic and others. MSCs's therapeutic effect is realized through paracrine regulation and direct influence on the surrounding cells. MMSCs secrete a significant amount of cytokines, chemokines, and adhesion molecules that regulate various molecular signaling pathways by activating and/or blocking them neuro-, myogenic and others. Due to paracrine signals, in particular, MSCs potentiate the survival and proliferation of endogenous cells, inhibit apoptosis, activate the differentiation of resident progenitor cells, which ultimately leads to the improved function of the damaged tissue.
It was established that MMSCs are capable of influencing inflammatory processes and stimulating angiogenesis. A large number of cytokines, produced by MMSCs, block the inflammation signals that occur during various conditions, including autoimmune processes. It is important to note that MSCs are very easily isolated from various available sources in the human body, including bone marrow, adipose tissue, oral mucosa, umbilical cord, heart, muscles, and others.
It was found that the properties of this type of cells are virtually identical regardless of the source. However, the main and most studied MMSCs sources in an adult are bone marrow, adipose tissue, oral mucosa (gums) and placenta. Peer-reviewed publications provide evidence that cultured MSCs are vulnerable to malignant transformation and can trigger tumorigenesis. However, if you look deeper into all the provided experiments, you will notice that they were conducted either on animal cells (mice, rats) or human cells that were genetically modified or grown using growth-promoting substances.
The case is that the process of obtaining a therapeutic dose of a cellular product takes a long time. This period of time, undoubtedly, depends on the individual specific features of the patient's organism, their past medical history, bad health habits, and various other factors, but will eventually require at least 3 weeks. That is why many researchers and formulators try to reduce the length of the period needed to obtain the therapeutic dose of MMSCs by using numerous proliferation stimulants that accelerate cell division but at the same time may lead to changes in the cell's properties, including oncotransformation capacity. A while back, one of the established scientific magazines published several articles, where numerous individual researchers reported the occurrence of spontaneous oncotransformation during long-term cultivation of the MMSCs. However, these articles were removed later and the explanatory notes added, stating that the researchers have accidentally cross-contaminated the MSCs cultures with tumor cell lines.
Thereby, there is no scientific evidence on MMSCs's capability of spontaneous transformation when using the culture medium and serums specifically designed for MSCs expansion and implementing proper quality control of the final product.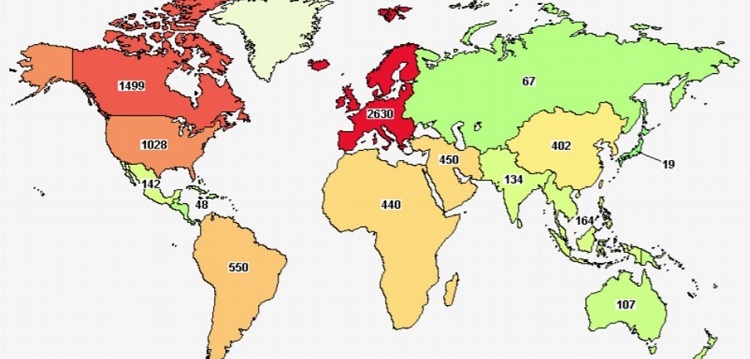 More importantly, the safety of MMSCs is further reflected in the total number of clinical safety studies. According to ClinicalTrials.gov, there are 7670 studies registered as of February 2019. The geographical spread of said clinical studies is available in figure 1.
The main goal of any clinical trial, especially if it is conducted for cellular products, is the safety assessment.