Hanne from Norway
Patient
I am Hana, from Norway.
For how long have you been suffering with MS?
I have had MS from 1995. Twenty… No, twenty-two years.
What kind of therapy did you receive in Norway?
Nothing. It's only the rehabilitaiting, little bit medicine, but not much. I found it online and I had nothing to lose, by starting some treatment for this disease. It couldn't get worse than it already was.
She said: "I look at the internet, for stem cell and I found this clinic, and I think OK, that's it, I try, I want to try, but to have a help with me".
I couldn't be worse, then I be. And I have nothing to lose.
Ok, please, Hanne, tell how do you feel now?
This is better.
Your right hand. Yes?
Yes.
Talk about how you came here.
I think it was good to come here. But the food is a little bit strange. But good. Little strange. That is alright.
Talk about the service.
What?
About the service. What do you think about the service?
Oh, about the service! They are really attentive.
And what do you think about the results?
OK, I'm waiting for better times… Day by day.
It's more craftful, powerful.
I managed to eat soup with my right hand. I wasn't able to do that for many, many years. So this hand is a lot better.
We were very warmly welcomed at the airport. Two gentlemen came and picked us up. Then we were driving through airport and came here, where we were greeted by doctor Aleksandra and a few nurses and they brought us here. We think it was very nice. The food is good, only our stomachs are not used to it. It is a little bit, well… We were tired. We sleep a little, talk a little, play a little bit on the internet and… Enjoy ourselves and having a nice time.
We sleep well, yes. Quite silent, also.
Ok, thank you.
Our patient progress report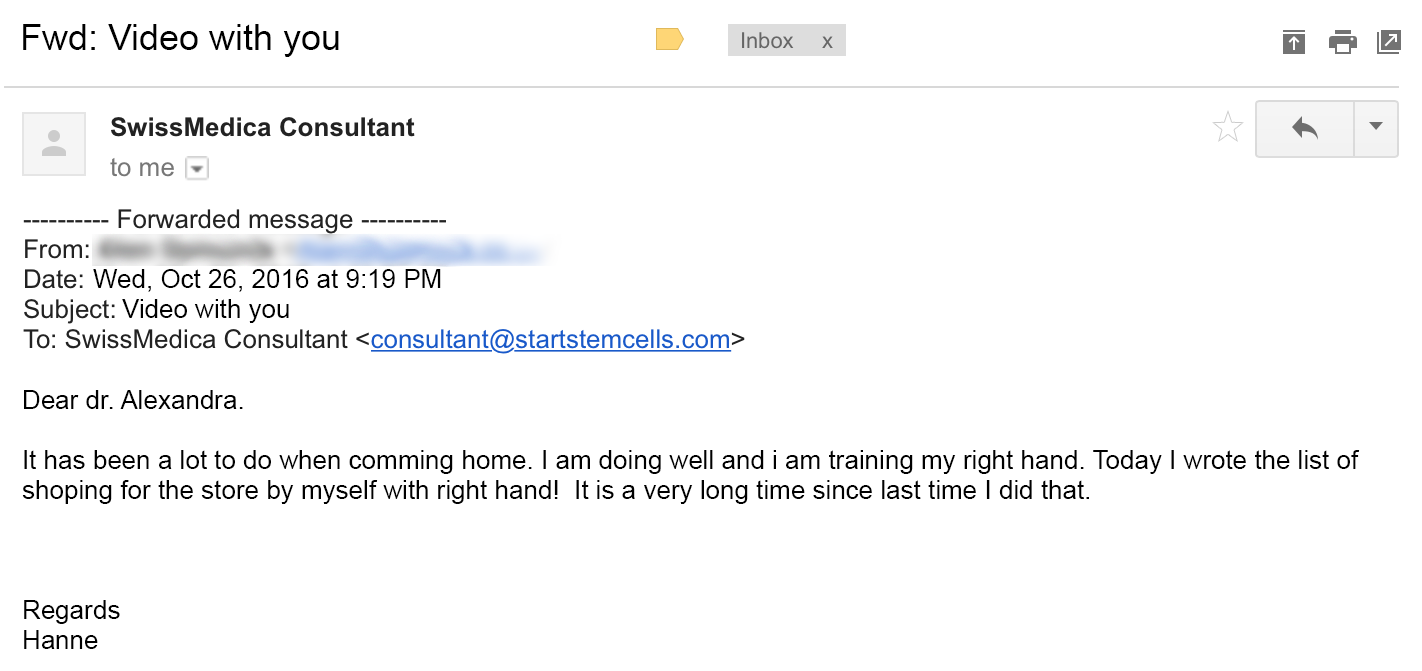 Contact us
Contact us and our doctors will recommend you individual treatment program and offer the best stem cell program

Medical Advisor, Swiss Medica doctor