Alzheimer's disease is a brain condition that causes issues with memory, thinking, and speech-processing functions. According to the ADI, around 55 million people worldwide were suffering from Alzheimer's disease or a related form of dementia in 2020. By 2050, this figure is estimated to rise to a staggering 139 million people.
At present, there are some drugs that can delay the decrease in cognitive and behavioral abilities in people with early- to mid-stage of this condition. However, Alzheimer stem cell therapy is a promising option. Ongoing research is constantly exploring the potential of stem cells Alzheimer's disease therapy.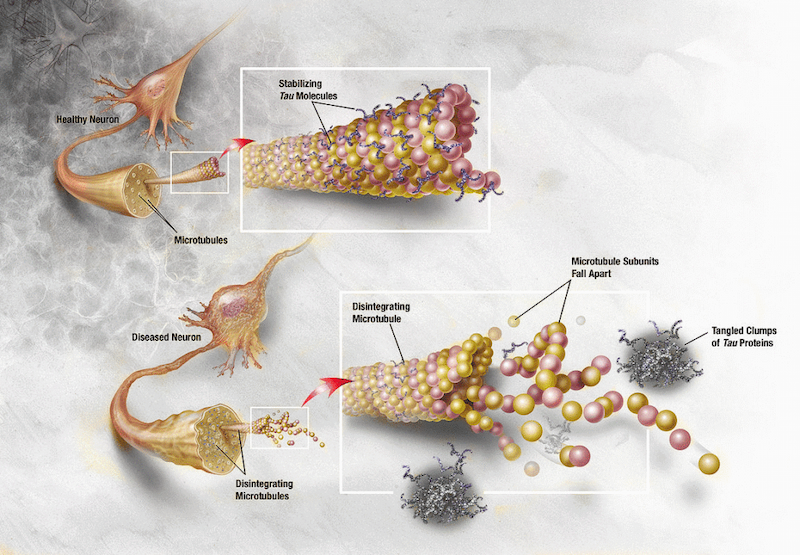 What is Alzheimer's?
Alzheimer's disease, or simply AD, is a form of dementia. It is a serious neurological disorder leading to memory loss and cognitive decline. The disease is asymptomatic and, in time, gets consistently worse and typically leads to death. It usually appears in older people. A person suffering from the condition tends to forget things they just learned, gets confused easily, and has trouble finding words. It gradually gets worse over time, making it hard for a person to perform daily tasks. Most often, the disease is diagnosed in elderly people, though it can attack the younger population, as well. However, stem cell treatment for Alzheimer's is a hope and a promising way out.
Alzheimer's syndrome and the consequences of the disease
The progressive death of brain cells mainly causes Alzheimer's disease. It often results from a specific combination of genetic, behavioral, and environmental factors. Scientists haven't yet completely understood what causes this condition, but it is obvious that AD severely damages the brain.
Affected by this disease, the brain loses its cells and connections between them. Along with cells dying, the brain also undergoes certain shrinkage. At first, the only symptoms of this process are mild confusion or increasing forgetfulness. As time passes, AD robs a patient of most of the memories. These patients experience personality changes, mood swings, and difficulty recognizing loved ones. If a person does not undergo serious Alzheimer's therapy, they start suffering from disorientation, speaking and writing problems, social withdrawal, anxiety, and depression.
Patients suffering from this disease lose their ability to:
think and reason;
make judgments and decisions;
plan and perform even simple tasks.

How do stem cell treatments help Alzheimer's?
Stem cell therapy – the key treatment mode used at the clinic – is based on the insertion of new adult stem cells into mutilated tissues. Stem cell for Alzheimer's have the unique ability to promote cell regeneration and self-renewal; they stimulate the healing of certain tissues and the whole body. There is evidence that the use of stem cells in Alzheimer's disease has the potential to alleviate the suffering of patients.
Numerous scientific pieces of research prove that stem cells make a great contribution to rebuilding damaged nerve fibers and thus repairing the damage caused to people with AD, even in the progressive stages of the disease. Additionally, no risk of rejection, allergic reactions, or serious side effects were shown through mesenchymal stem cells Alzheimer's disease therapy.
Advantages of stem cell therapy for Alzheimer's disease at Swiss Medica
Here are several advantages of stem cell therapy for Alzheimer's:
Both patients' own stem cells or donated cells from different sources can be used.
In general, the therapy has little to zero side effects and is rejection-free.
It does not require general anesthesia.
No risk of contamination by transmissible diseases since the treatment is performed in accordance with the European Good Tissue Practice (GTP) guidelines.
No oncological complications as adult mesenchymal stem cells, in comparison to embryonic or fetal cells, are rather mature.
The procedure of stem cell for Alzheimer's introduction takes only a few hours (IV drip in most cases; several procedures may be required to achieve the therapeutic result).
The Swiss Medica ХХI Century clinic offers its clients safe and effective Alzheimer stem cell therapy treatment supported by a team of highly qualified professionals. We realize the importance of conducting personalized care and promise proven results.
Swiss Medica provides stem cell treatment for Alzheimer's disease, including stem cell therapy and physiotherapy.
What type of improvements can I expect from stem cell therapy?
The advances in stem cell research for Alzheimer's attempt to repair or replace damaged brain cells while also improving cognitive function.
Here are some potential improvements from stem cell therapy you can expect:
Slowing down disease progression: The therapy helps in slowing the degeneration of brain cells. It also potentially helps in delaying the worsening of symptoms.
Regeneration of brain tissue: Stem cells have the potential to differentiate into various types of brain cells and replace damaged cells. This ability of stem cells can improve brain function.
Cognitive improvements: Stem cell therapy may lead to improvements in memory, thinking abilities, and overall cognitive function, though the extent of improvement can vary.
The Swiss Medica ХХI Century clinic has seen numerous benefits of stem cell research for Alzheimer's patients. One of the patients, Randi, has been getting her stem cell therapy treatment for the condition. The therapy is expected to have a positive result which will stop the progression of the disease.
Also, there has been no further development in the disease, and Randi can go back to living her old life. She's able to drive her car and go on about her daily activities, and there's nothing more she wants.
How long will it take to see improvements?
The success of stem cell therapy relies on how each patient responds to the neural stem cells Alzheimer disease, and it can vary from person to person in terms of effectiveness. Usually, 3-6 months following therapy, observable results can be noted. Within the first few weeks after treatment, many patients have reported an improvement in their quality of life and a decrease in symptoms. Remember that each person's experience will be unique and that accurate assessment of the long-term effects of stem cell therapy will require continuing monitoring and follow-up care.
What type of side effects can a patient expect from stem cell therapy?
The risks and benefits of using stem cells in Alzheimer's treatment vary. Although the use of stem cells in Alzheimer's disease is generally regarded as safe, it can nevertheless have risks and adverse effects like any other medical procedure. Depending on the type of stem cell therapy, the source, and the particular patient, different adverse effects may occur.
The following are a few potential negative effects of stem cell therapy:
Discomfort/pain at the injection site: The area where the stem cells are injected may experience mild pain, edema, or bruising. These symptoms usually go away in a few days.
Infection: The chance of infection at the injection site is minimal. This risk can be reduced with the right sterile practices and safeguards.
Headache and fatigue: Within the first days after the procedure, a patient may experience headaches or weakness in the limbs or in the whole body. However, it passes with no consequences.
It's crucial to remember that not every patient will experience side effects and that they are typically mild and easily manageable.
Swiss Medica stem cell clinic and cell laboratory.
How to enter the treatment program
You need to fill out the form to get in touch with an expert to discuss treatment options. A medical advisor will then be contacting you to further collect your medical information and will be answering all your basic questions too.
Contact us
Get a free online consultation to learn about the expected results of the use of stem cells to treat Alzheimer's, its cost, and its duration.

Medical Advisor, Swiss Medica doctor
What the treatment involves
At the Swiss Medica clinic, the Alzheimer stem cell therapy treatment program may include:
Medical tests, diagnostics;
Medications;
Stem cells therapy;
Physiotherapy;
Psychotherapy;
Additional doctors consultations (specialists in neurology, psychiatry, psychology, neurorehabilitation, and nutrition);
A specially developed individually balanced diet;
Follow-up if needed;
Transfer from/to the airport;
Interpretation services.
In conclusion
Stem cell therapy has a vast potential for the treatment of Alzheimer's. Not only do stem cells help repair damaged tissues, but they also improve cognitive function, thereby improving the quality of a patient's life. To provide patients with holistic care, the stem cell treatment for Alzheimer's disease at the Clinic uses a thorough strategy that combines consultations, diagnostic procedures, stem cell therapy, a healthy diet, and numerous other support services.
Medical Advisor, Swiss Medica doctor